ebmBUS - RS485
RS485-based data bus of ebmpapst, developed for the application of ebmpapst fans in cleanroom appliances.
Up to 7,905 fans with ebmBUS interface can be controlled by a single FFU-Control-Centre. The ebmBUS protocol, which has been further developed continuously, is now existing in it's third generation and is pretty simple to apply and to implement.
The ebmBUS protocol is based physically on a 2 wire RS485 transmission standard with 9600 Baud Half duplex.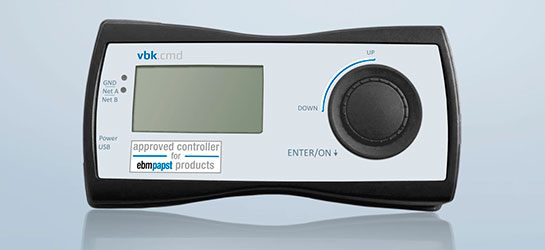 vbk.cmd - The modern handheld to control and parametrize EC-fans with ebmBUS interface.
approved controller - get more information